MALAGA
FITNESS AND GYM EQUIPMENT MEGASTORE
2/66 Kent way, Malaga, Perth,
WA 6090, Australia
(08) 9249 5936
Opening Hours:
Monday - Friday: 9.30am to 5pm
Saturday: 10:00am to 4:00pm
Sunday: Closed
3D TOUR THROUGH OUR SHOWROOM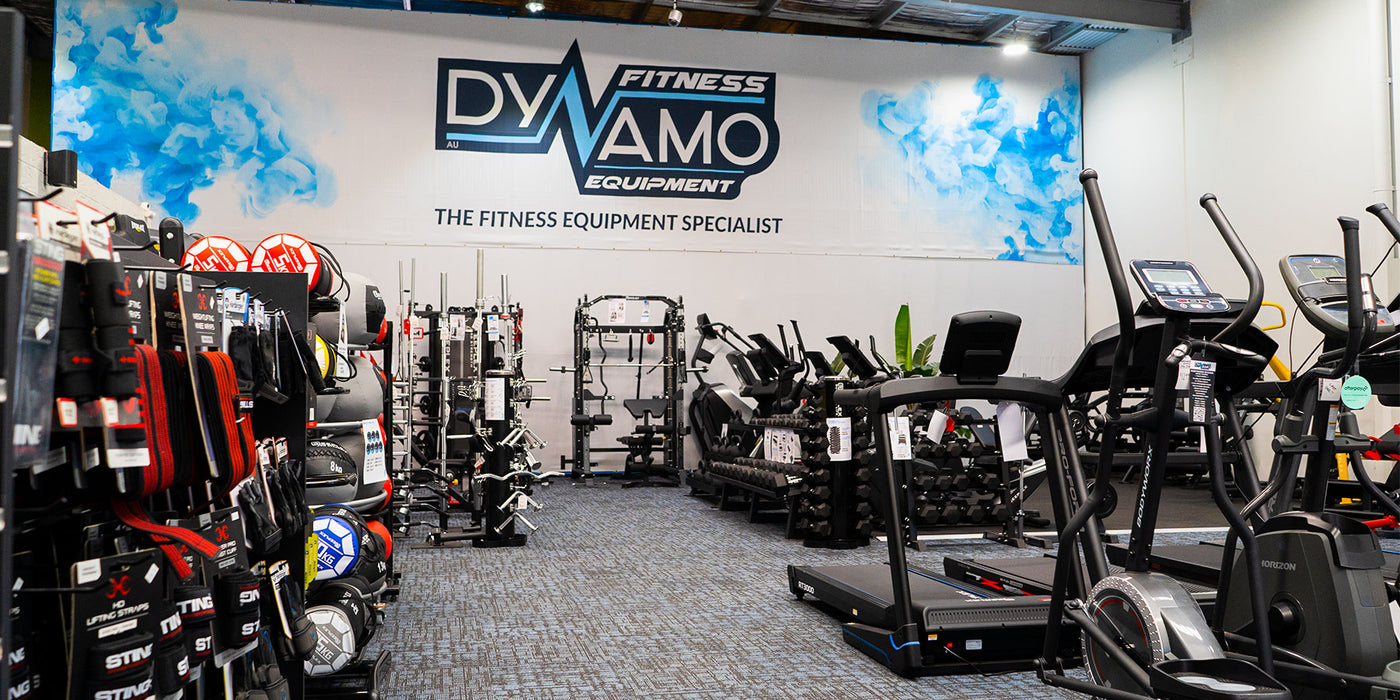 Full of both home and commercial gym equipment for you to come and try before you buy, our Perth showroom is located in Malaga and is open 6 days a week. Our industry knowledgeable staff are readily available to assist with all your fitness equipment needs.

Our team delivers to the Perth Metro area on a weekly basis. With the assistance of reliable couriers, we are also able to have rural and regional customers orders delivered swiftly without a hitch.

With a range of buy now pay later options such as Afterpay, Zipmoney, Humm, and Humm90, Dynamo Fitness is the ideal place to grab all your fitness equipment and pay over time.
OSBORNE PARK
FITNESS AND GYM EQUIPMENT MEGASTORE
17/69 Hector St W, Osborne Park WA,
6017, Australia
(08) 6371 2858
Opening Hours:
Monday - Friday: 9.30am to 5pm
Saturday: 10:00am to 4:00pm
Sunday: 11:00am to 3:00pm
3D TOUR THROUGH OUR SHOWROOM
Dynamo Fitness is a leading fitness equipment supplier in Australia with over a decade of experience in the fitness industry. Our extensive range of products includes treadmills, exercise bikes, rowing machines, weight benches, dumbbells, kettlebells, and accessories such as yoga mats, foam rollers, and resistance bands. We offer both commercial and home fitness equipment to suit all needs and budgets, making fitness accessible to everyone.
Our commitment to providing the highest level of service and support is reflected in our installation, maintenance, and repair services. Our experienced technicians can help customers with everything from assembling their new equipment to repairing any issues that may arise. We believe that our knowledgeable staff are an essential part of the buying process, and we're always on hand to offer advice and guidance to help customers select the right equipment to suit their individual needs.
With our new location in Osborne Park, Western Australia, we are excited to continue providing Australians with the best gym equipment and customer service. Whether you're just starting out or are an experienced fitness enthusiast, our range of equipment is designed to help people of all fitness levels achieve their health and fitness goals. At Dynamo Fitness, we're committed to helping you live a healthier, happier life by providing the best fitness equipment and services in Australia.