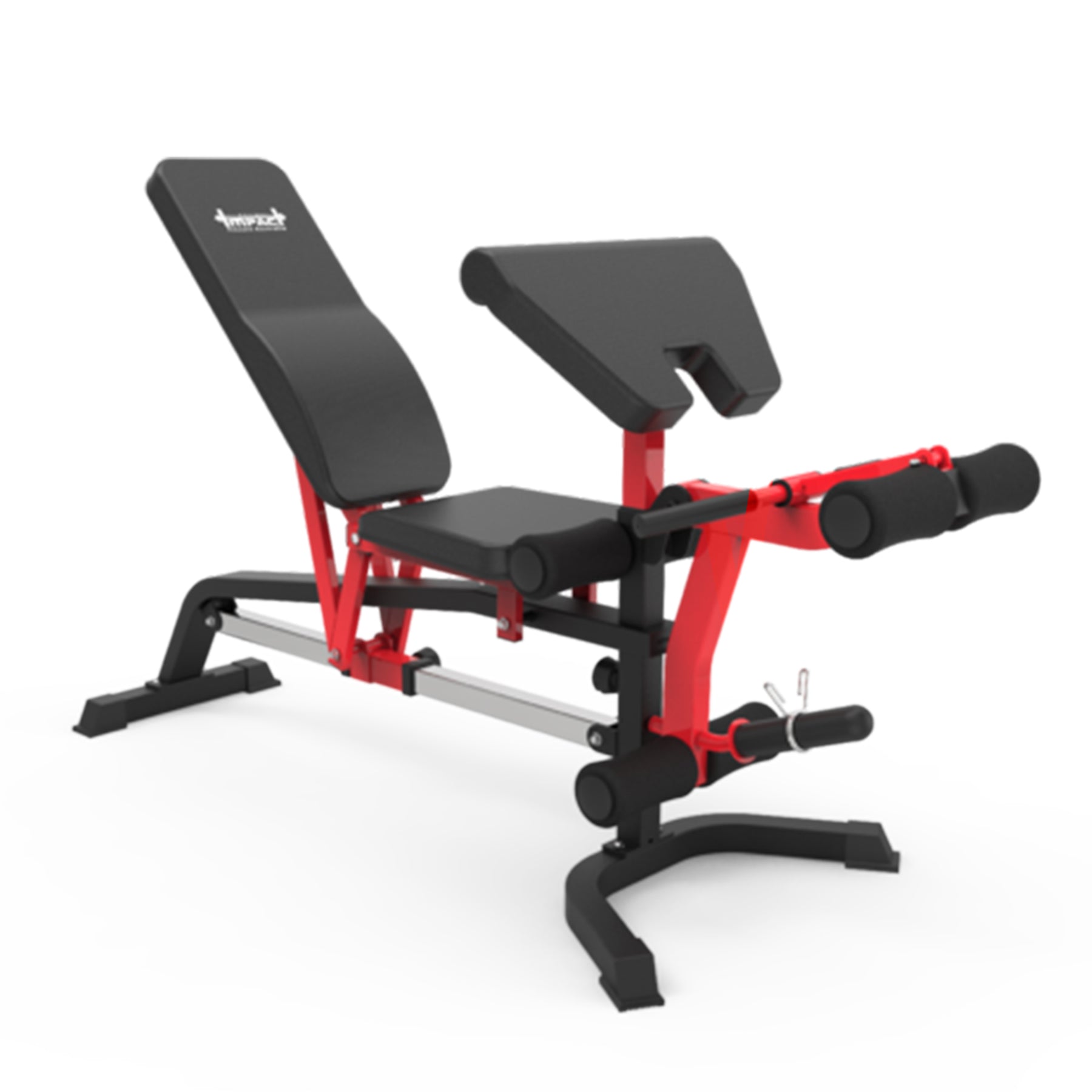 Impact Fitness MF5 Multi Trainer + Attachments + Adjustable Bench
DELIVERY & PICK UP OPTIONS
The Impact Fitness MF5 Multi Trainer is a heavy-duty dual cable fitness machine and is perfect for the home gym or corporate gym. The clever compact design incorporates a squat rack, a smith machine, and an adjustable cable crossover featuring 14 attachments.
Functional Trainer Frame
The frame of the Impact Fitness Functional Trainer is manufactured to the highest quality using heavy-gauge steel to create a solid, sturdy exercise machine. The construction of the functional trainer includes 70x50x2mm steel for the base and 50x50x2mm for the uprights making the Impact Fitness MT Multi Trainer one of the best on the market.
The multi-grip pull-up bar allows you to perform close grip, wide grip, and underhand pull-ups to target your upper, mid, and lower back muscles. The machine features rear storage cross beams to store all 14 attachments, 4 x weight plates & 2 x barbell storage posts, all incorporated into the frame.
Smith Machine
The MF5 Multi Trainer's clever Smith machine is smooth and easy to use. It incorporates eight ball-bearing rollers that run up and down the guide rods; this allows the user to train safely and with proper form. Load your weight plates, set your spotter's arms, and start performing compound strength and muscle-building exercises such as squats and bench presses. The exclusive design of the Smith machine will allow you to perform heavyweight sets, focusing more on pressing the weight than controlling the barbell.
Dual Cable cross-over
Cable crossover exercises are vital for anyone looking at targeting specific muscles for rehabilitation work, strengthening a muscle after surgery, and hitting isolation exercises that increase your overall strength.
The functional trainer uses Aircraft-grade high tensile cables that run through a series of Impact Fitness ProGlide® pulleys. The Impact Fitness ProGlide® pulleys make for a smooth and friction-free cable crossover system. The adjustable dual pulley swivels allow you to move the pulleys up and down 22 different height levels. Perform tricep pushdowns, then adjust the pulley down to switch to bicep curls in seconds, allowing you to train super sets and increase the size of your arms.
Squat Rack
The Impact Fitness MF5 Multi Trainer also features two hard rubber-coated J-Hooks and two hard rubber-coated Spotter arms. These attachments are essential when performing barbell back squat exercises; adjust your J-Hooks and spotter arms to your desired range of motion and start squatting. The Impact Fitness MT Multi Trainer allows the J-hooks and Spotter arms to be set at 31 different heights, allowing you to perform almost all barbell exercises. The J-hooks feature a rubber coating that protects your barbell when racking; this reduces noise and steel-on-steel contact.
14 Impact Fitness MF5 Multi Trainer Attachments
This machine comes fully loaded with 14 quality attachments. These attachments including
2 x J-hooks, 2 x spotter arms, 1.3m long bar, 1.3m EZ Curl bar, 2 x D-handles, Ankle strap, Leg support cushions, Torsonator, Barbell row, 2 x adjustable dip bars.
These attachments can be used with your cable crossover pulley system to give you a dynamic and great workout with hundreds of exercises performed from one machine.
Impact Fitness MF5 Multi Trainer + Attachments Specifications
Heavy Gauge frame construction combining 70x50x2mm & 50x50x2mm
Eight ball-bearing guided smith machine for pressing squatting and safe barbell exercises
Dual Cable crossover pulley system (adjustable height) 
2:1 Pulley Ratio
High tensile aircraft grade cables wrapped in PVC
Adjustable pulley swivel travels with you for smooth pulley exercises.
Squat rack with 2 x j-hooks and 2 x spotter arms with hard rubber
14 high-quality attachments: 2 J-hooks, 2 spotter arms, 1.3m straight bar, 1.3m EZ curl bar, 2 rubber D-handles, ankle strap, leg support cushions, torsonator, barbell row, and 2 adjustable dip bars.
Multi-grip pull-up bar with a close grip and wide grip for effective back-targeting pull-ups
Plate loaded machine accepts Olympic 50mm & 25mm Standard weight plates.
Frame Weight: 150KG
Premium powder coating
Attachment storage for all attachments
Weight plate & barbell storage post
Weight Plates Sold Separately
Adjustable Bench Features: 
Heavy-duty wide base frame construction
Additional support tubing in a flat position for maximum strength
Thick firm commercial cushions (70mm)
Easily adjustable backrest cushion
Easily adjustable seat cushion
2 rear wheels for easy transport
| | |
| --- | --- |
| SKU | IMPC-MF5 |
| Brand | Impact Fitness |
| Max user weight (kg) | 300 |
| Product assembly dimensions | 1.5m (D) x 2.0m (W) x 2.2m (H) |
| Weight (kg) | 150.0 |
Frame: Lifetime
Parts: 2 Years
Cables & Pulleys: 2 Years