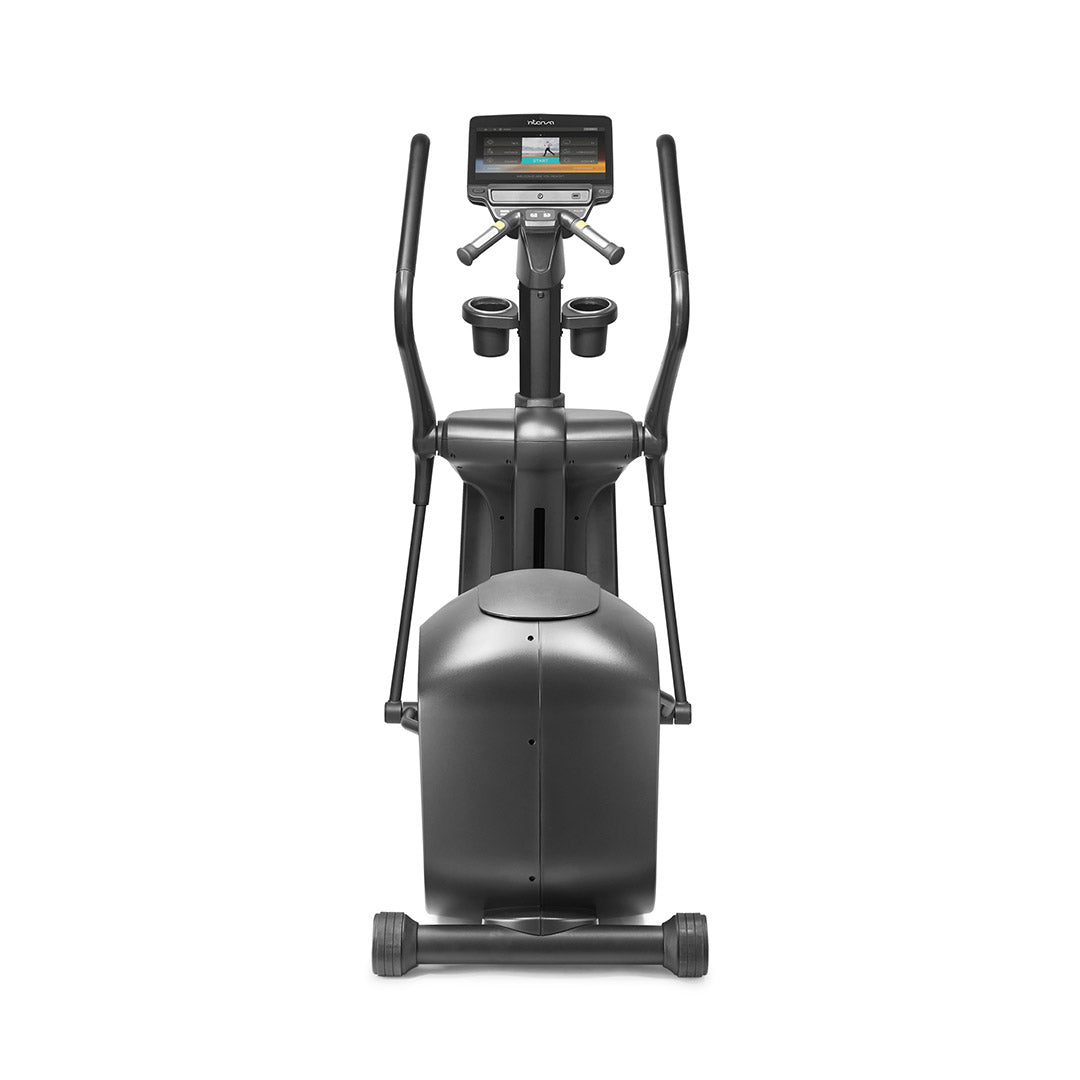 Intenza 550ETe2+ Commercial Elliptical Trainer with 16" Touchscreen Display
Enquire for price
ELEVATE YOUR FITNESS WITH THE INTENZA 550 Series Elliptical
Empower Your Stride
Intenza 550ETe2+ Elliptical Trainer With Incline Features
Custom Settings: When USB is detected, users may customize (1) Display Unit (2) Age (3) Gender (4) Weight (5) Buzzer. The smart machine will automatically prioritize personalized settings and workout routines with a USB login
Display Readouts: HR, WATT, Time, Speed, Calories, Gradient, Distance, SPM, Level, Workout summary, Workout Profile
Heart Rate Monitoring: Polar®—coded wireless telemetry technology: built-in heart rate receiver (heart rate transmitter strap required) Digital contact heart rate technology ensures precision and reliability
On—The—Fly: Allows switching to other workout programs during exercise
Power Saving System: Energy saver mode is used to minimize power consumption (not exceeding 0.5W) which meets Erp EC 1275/ 2008 requirements
USB Connectivity: For the customized workout, workout results, personal settings, InCareTM and manual software upgrade
C—SAFE Standard Power: Standard C—SAFE power supports the power supply of external tools
Optional Built—in TV System: Analog/ Digital support ATSC, DVB—T/T2/C/S, ISDB. For detailed support on Digital TV contact your Intenza Sales Representative
Connectors: Support HDMI devices, Ethernet cable network, 3.5MM Stereo Headphone Jack, Bluetooth stereo headset
Display Type: Industrial grade 16'' TFT capactivie touchscreen display for a longer lifetime
InCareTM Online: Smart machine automatically detects when service is needed and sends service diagnostic via Wi-Fi
IntenzacastTM: Supports smartphone mirroring. iOS/ Android
Language: 23 countries are offered
Screen Saver: Upload 10 image files for messages or commercial advertisements to be displayed during stand—by
Virtual Scenery: 10 scenes
Wi-Fi Capability: Supports InCareTM Online. Software update. Internet browsing
Netpulse (xID): xID login
EGYM: A widely used, smart solution used for workout data tracking and personal training plans
APP Connectivity: Maximum installation of 5 apps available. Needs to be certified by Intenza
Default Incline Setting: Allows preferential incline setting. Restored upon subsequent workouts
Performance Features
3—Phase Generator: Power saving hybrid generator delivers consistent performance for a smooth and quiet workout
Belt Drive: Belt drive system for smoother, quieter performance. Minimized maintenance. Service made quick and easy
Bottom Bracket: High-performance bottom bracket assembly with precision sealed ball bearing for exceptional performance
Incline: 16 levels 13º—40º
Maximum User Weight: 181kg (400 lbs)
Maximum Watts: 630 Watts Level 40 at 150SPM
Minimum Watts: 15 WattsLevel 1 at 40SPM
Pedal to Pedal distance: 6cm / 2.3"
Resistance Levels: 40 resistance levels meet new European EN957—9 standards
Step—up Height: 35cm / 13.7"
Stride Length: 52—55cm / 20.4—21.6"
User Height Range: 147—193cm / 4'9"—6'5"
Workout Options
Fitness Test: The fitness test determines an individual's fitness level based on VO2 max standards. The test method includes Astrand—Rhyming
HR Control: 4 heart rate control programs in constant power mode—HR Zone, Interval, Hills, Cardio Strength
Race: The race program offers a fun challenge by racing against existing champions for 500M, 1K, or 2K races
Quick Start: Quick Start is a manual workout. Workout profile and results can be saved to USB
Custom Program: 2 different types of profiles (Level, HRC) to create your own workout programs. Setting can easily be saved to USB by day for the future use
Preset Program: 10 Preset programs: 1:3 interval, 1:2 interval, 1:1 interval, 3-step interval, Easy Hills, Rolling Hills, Peak, Hills Step, HIIT Beginner, HIIT Advanced
Target Program: 3 Target programs: Time (1—99MINS), Distance (0.5—99.9KM), Calories (10—9999 KCALS)
ComfortFit™ Features
Accessories Holder: Conveniently placed accessories holder for personal devices
Ergo Bar Control Center: Ergonomically positioned contact heart rate sensors and incline adjustment buttons at your fingertips for ease—of—use
Foot Pedals: Ergonomic designed oversized foot pedals with soft grip to enhance stability and comfort during workout
Frame: Robust frame structure designed to ensure stability and durability. Aluminium front post offers aesthetic appeal
Incline: Training with an incline enhances workout variety while increasing workout results to include different muscle groups
Upper Body Moving Arms: Synchronising upper body and lower body movement increases overall total body fitness
Water Bottle Holders: Dual water bottle holders support 1-litre water bottles
| | |
| --- | --- |
| SKU | 550ETe2+ |
| Brand | Intenza |
| Max user weight (kg) | 181 (400 lbs) |
| Product assembly dimensions | 209cm (L) x 84cm (W) x 172cm (H) |
| Weight (kg) | 185.0 |
Frame: 7 Years
Mechanical: 27 Months
Electronics: 27 Months
Console: 2 Years
External Device Connectors: USB, earphones etc: 12 Months
Wear Items: 12 Months