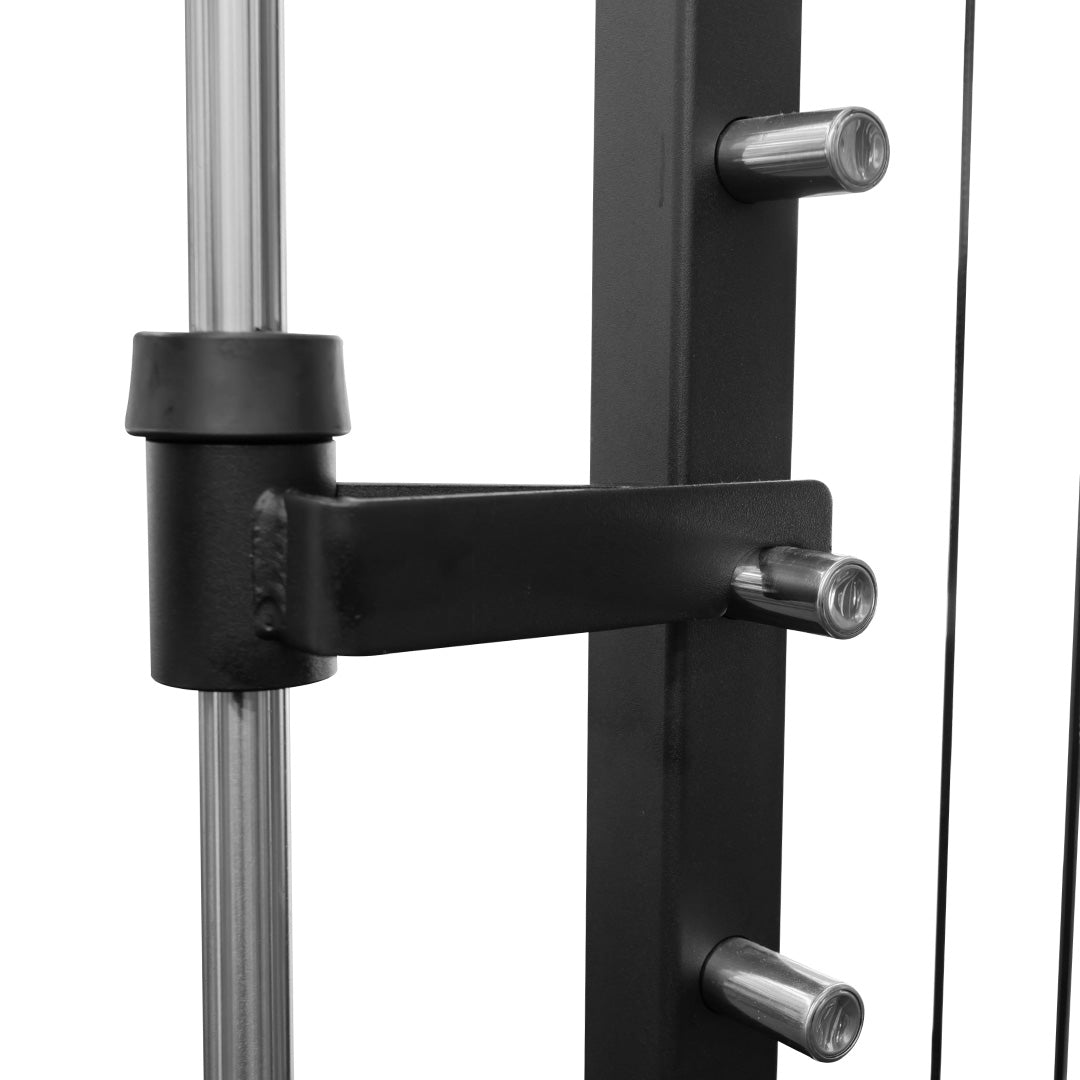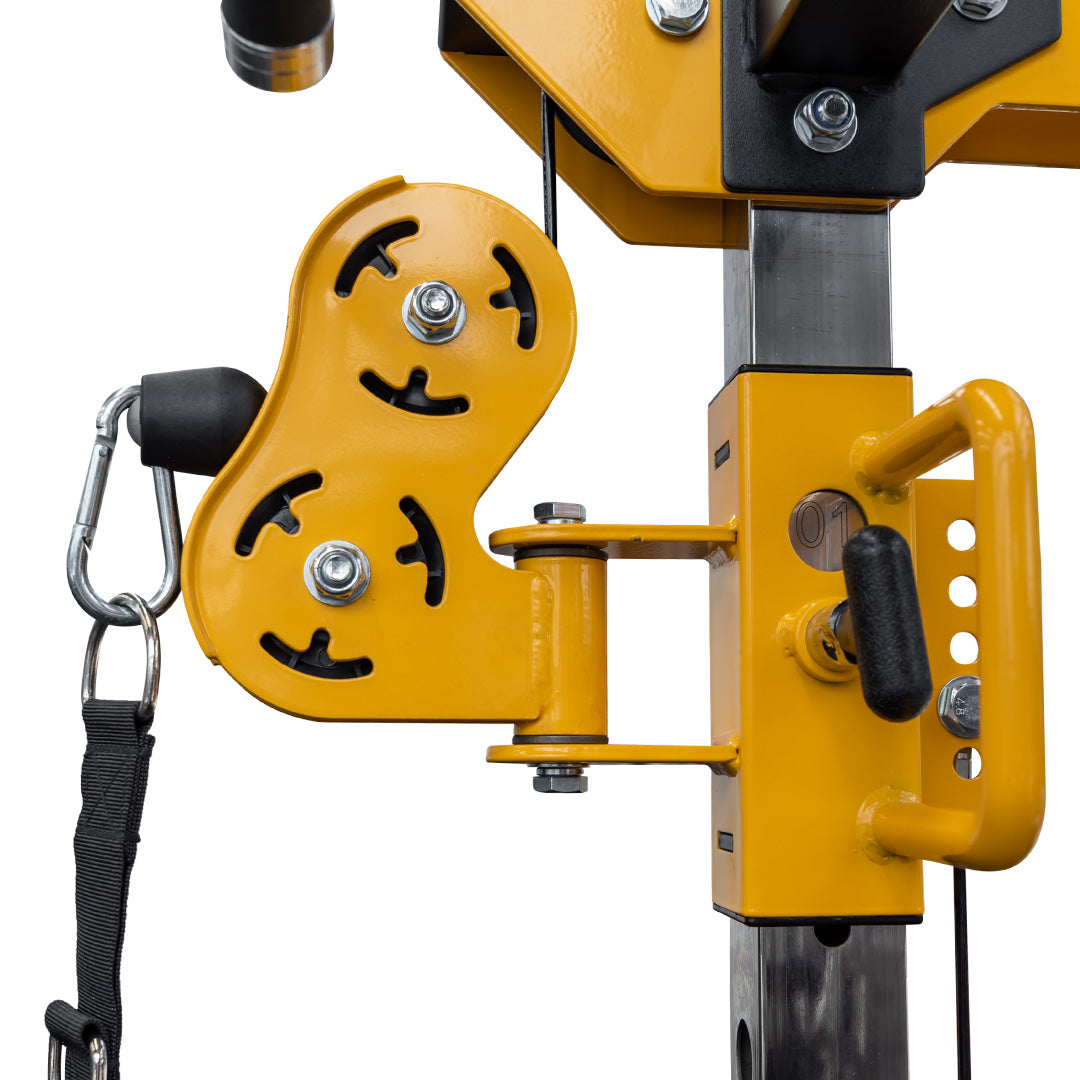 Reeplex CBT-PL Multi Station Gym + Fid Bench + Jammer Arms + Leg Press + 100kg Weight Plates + Olympic Barbell
The Reeplex CBT-PL Functional Trainer is the ultimate all-in-one trainer. Reeplex has combined a functional trainer with a counter-balanced commercial smith barbell added a squat rack with spotter's arms and designed a clever pulley system all in one compact amazing machine.
PACKAGE INCLUDES
Reeplex RFID600 Adjustable bench with adjustable seat angle.
Functional Trainer
The CBT-PL has a clever adjustable functional trainer pulley system. 16 levels of adjustment on the dual pulley system provide an unlimited amount of exercise from this station. Adjusting the pulleys from a high to a low position is super easy with the spring-loaded locking pin.
The pulleys have a 270-degree swivel giving you a range of angles on the cable machine and the use of commercially sealed bearing pulleys makes the cable system super smooth and responsive.
The plate-loaded pulley system provides an unlimited amount of weight that can be used. The heavy-duty dual guide rails give you smooth travel and the super-strong 200kg rating will give you enough weight for every cable exercise.
Counter-Balanced Smith Machine
The commercial-grade counterbalanced smith machine offers a smooth barbell travel with a bearing system and Smith locking feature for safety. Backup spotter arms prevent accidents.
Squat Rack with Spotter Arms
For those looking at racking an Olympic barbell, the CBT-PL Functional trainer offers an adjustable squat rack. This includes 2 x J-hooks and 2 x Spotter arms for added safety. This squat rack is perfect for squats, deadlifts, rack pulls and bench press, the j-hooks and spotters come with a high-density rubber to protect your barbell.
Dip Station Pull Up Bar
This machine comes with 2 dip attachments that are attached at the front of the machine. This dip station features dual handles with rubber coating and is full adjustable to 16 levels. The position of the dip handles allow you to use them with a resistance band to give you assistance when performing dips.
The pull up bar on the CBTPL has dual grip handles with rubber and a centre hook for band-assisted pull-ups. The super-heavy frame allows you to perform pull-ups & chin-ups without worrying about the machine tipping over or shifting under your bodyweight.
Seated Row Station
The CBT-PL has a clever seated row station located in the centre of the machine. It utilizes a 1:1 pulley ratio which gives you a true weight feel and does not reduce the weight on the pulley. The seated row station has a large footplate to give you a great position for rowing and uses Reeplex pro strength commercial sealed bearing pulleys for a smooth row feel.
Cable Attachments
The Reeplex Cbt-PL comes with many cable attachments 2 x D-handles, bicep curl bar, lat pulldown bar and a functional trainer bar are all included with this machine. Combine this with an Olympic barbell and you can perform many exercises including bent over rows and rotational torosonator core twists.
Key Features
Linear bearing smith machine
Solid steel smith barbell 400kg rating
High tensile 2000lbs rated cables
1:1 Pulley Ratio
Commercial sealed bearing pulleys
Adjustable dual cable pulleys with swivel cable tracking
Seated row pulley footplate anti-slip plate
High tensile bolts with maximum strength
Premium powder coating anti-rust protection
6 post-plate storage
Dual post plate loaded pulley system up to 200kg
Assembly Dimensions
1.8m (D) x 2.1m (W) x 2.22m (H)
| | |
| --- | --- |
| SKU | cbt-pl-rfid60-100kg-4 |
| Max user weight (kg) | 400 |
| Product assembly dimensions | 1.8m (D) x 2.1m (W) x 2.22m (H) |
| Weight (kg) | 436.0 |
Reeplex CBT-PL Multi Station Gym + FID Bench + Jammer Arms + 100kg Weight Plates + Olympic Barbell
Frame: Lifetime Parts: 2 Years Cables & Pulleys: 2 Years