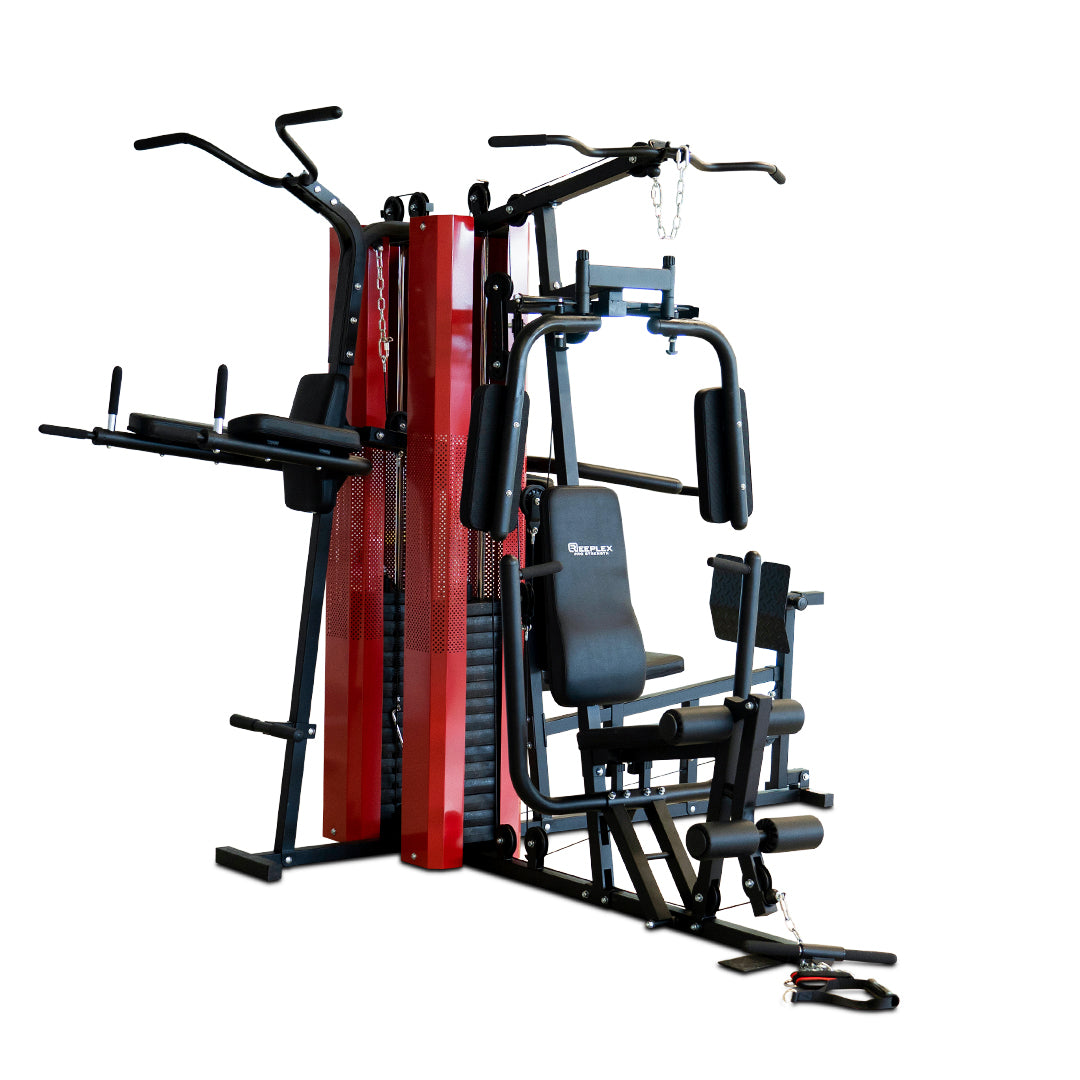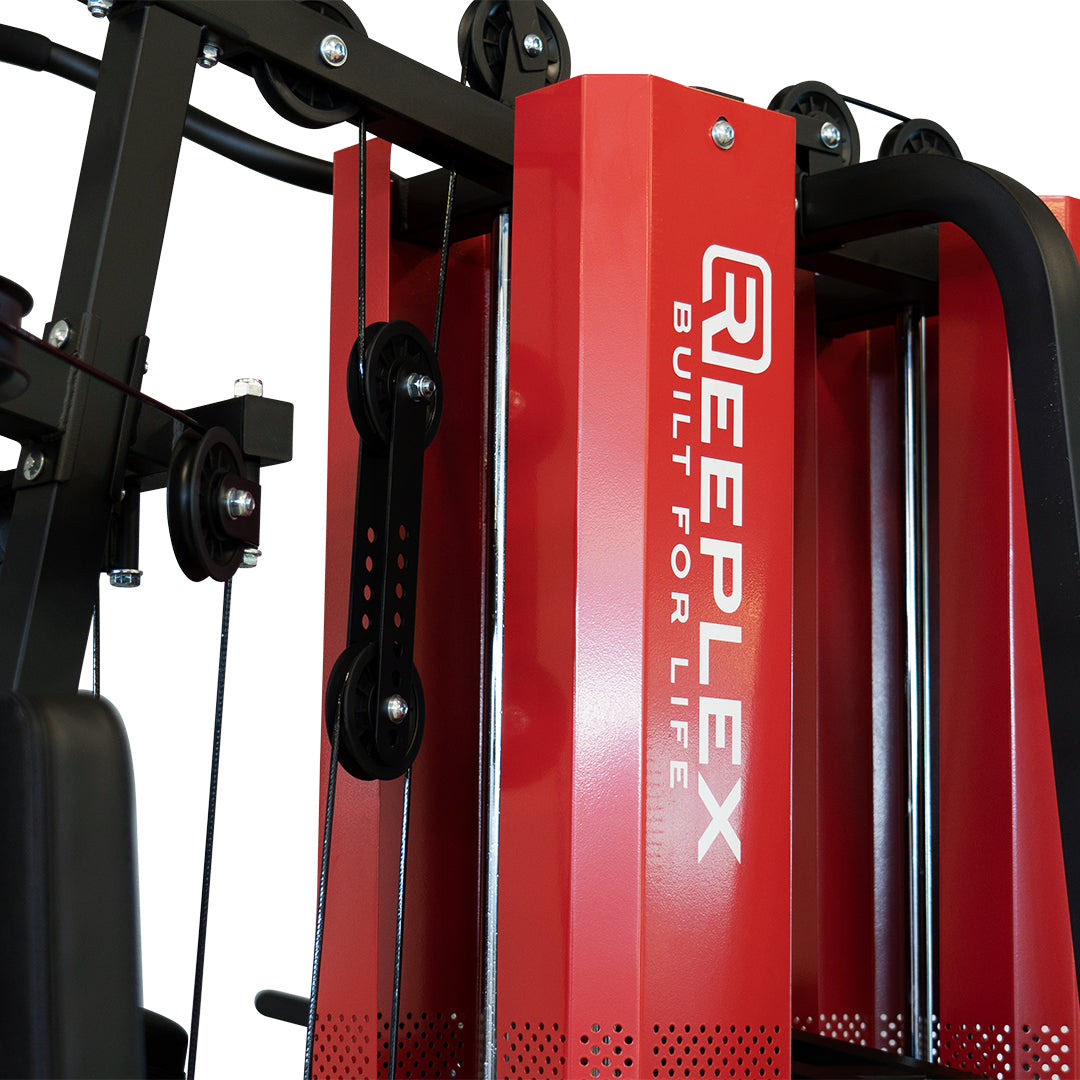 Reeplex Multi Station Home Gym with Leg Press HG2900
Free delivery
Free delivery Is available to metro areas and selected cities only. To find out if you qualify, please use the calculator by entering your postcode.
DELIVERY & PICK UP OPTIONS
The Reeplex Home Gym with Leg Press HG2900 home gym that allows you to exercise every muscle group in the body.
The HG2900 Home Gym with Leg Press is a versatile fitness equipment that helps you achieve your fitness goals conveniently at home. This all-in-one gym provides a compact and space-saving design without compromising on functionality.
Frame & Dual Weight Stacks
The HG2900 home gym is equipped with a sturdy frame featuring 2 weight stacks, allowing for simultaneous dual workouts. In addition, each weight stack is fully adjustable, and at each station with precision. The home gym is designed to boost the Leg press station's weight stack from 150 LBS to a remarkable 290 LBS, a staggering 93% increase.
Chest Press / Peck Fly
The HG2900 features a heavy-duty chest press and independent peck deck that allows you to adjust it for perfect range of motion. The heavy-duty chest press enhances chest strength and size, while the peck deck targets outer chest muscles for a broader chest.
Lat Pulldown & Lower Row Pulley
The HG2900 includes a lat pulldown and lower row/curl pulley with attachments, offering a wide range of exercises to diversify your workout routine. The lower row/curl pulley enables you to target the biceps and lower back, as well as perform upright rows and shrugs.
Leg Press & Leg Developer
This HG2900 versatile leg press not only allows you to customize the range of motion according to your preference but also enables you to perform calf raises for added variety and effectiveness. Designed with a checkered plate, it ensures safety by preventing foot slippage during intense workouts.
Additionally, its ergonomic design and adjustable settings enhance your overall workout experience. Additionally, its adjustable capabilities and multifunctionality make it an ideal choice for a comprehensive and enjoyable lower-body workout.
Heavy Duty Shoulder Press
The HG2900 heavy duty shoulder press has been designed to target your shoulders and support your lower back by putting you in a comfortable seated position. Unlike barbell press which can be dangerous if performed incorrectly the shoulder press is supported. The HG2900 shoulder press features a versatile multi-grip handle for targeting various shoulder muscles.
Power Tower & Ab Raisers
The HG2900 stands out among its class as the only home gym that incorporates both a power tower and an ab raise station. Notably, these unique additions set it apart from its counterparts, providing you with a diverse range of exercise options to further enhance your fitness routine.
This exceptional power tower offers a variety of upper body and core strengthening exercises, including pull-ups, chin-ups, and ab raises. The dip station features high-density cushions for added comfort and support during workouts.
Home Gym with Leg Press HG2900 Specifications
Multistation designed  heavy-duty frame
2 x 150 LBS Weight Stacks 300 LBS Total.
Cable Attachments Included: Lat Pulldown, Bicep Curl Bar, Ankle Strap & Single "D" Handle
Steel high tensile aircraft cable jacketed with PVC coating
Sealed bearing heavy-duty pulleys ReeplexProGlide® pulleys
Heavy double layer powder coating, good finish
Stations include: Chest Press / Peck Deck / Shoulder Press / Leg Press / Leg Developer / 2 pulley stations & power tower
Includes steel cage surrounding weight stack for added safety
Adjustable Pec deck, shoulder press seat for added range of motion
Heavy Frame Construction Weight: 309KG
Assembly Dimensions
3.4m (L) x 2.3m (W) x 2.3m (H
| | |
| --- | --- |
| SKU | HG2900 |
| Brand | Reeplex |
| Max user weight (kg) | 150 |
| Product assembly dimensions | 3.4m (L) x 2.3m (W) x 2.3m (H) |
| Weight (kg) | 309.0 |
Frame Lifetime Parts 2 Years Pulleys & Cables 2 Years Cushions 2 Years